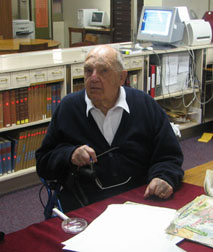 A collection of watercolour paintings, documents, books, photographs and mining maps.
Mr. KS (Kenneth) Birch was born in Johannesburg in May 1914. Educated at Jeppe Preparatory School and Jeppe High School for Boys, he graduated from the University of the Witwatersrand in 1936 in architecture and town planning. During the Second World War he served with distinction in North Africa and Italy in the Royal Engineers. After the war, in 1946, he was appointed as an architect in a prominent mining corporation.
The Birch Collection consists of several watercolour paintings of gold mines still producing on the Reef. The paintings, from Randfontein in the west to Heidelberg in the east, were painted mainly between 1960 and 1975. A large part of the collection consists of documents pertaining to the mining industry, books, photographs of old Johannesburg and several mining maps.
For inquiries regarding this collection or items in the collection, please contact Nikki Haw
Tel.: +27 12 420 4707
Provided for educational purposes only. It may not be downloaded, reproduced, or distributed in any format without written permission of The University of Pretoria, Library Services (Academic Information Service). Any attempt to circumvent the access controls placed on this file is a violation of copyright laws and is subject to criminal prosecution.