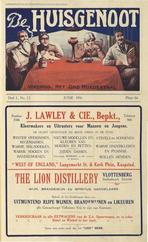 This collection consists of digital copies of Huisgenoot, a popular South African periodical that started life in 1916 as a monthly called De Huisgenoot. The earlier Huisgenoot editions contained articles with a much greater intellectual content than the later editions. It is for this reason that only the pre-1950 publications will be included in the collection.
For inquiries regarding this collection or items in the collection, please contact Pieter van der Merwe
Tel.: +27 12 420 4707
View the Collection Policy
Provided for educational purposes only. It may not be downloaded, reproduced, or distributed in any format without written permission of The University of Pretoria, Department of Library Services. Any attempt to circumvent the access controls placed on this file is a violation of copyright laws and is subject to criminal prosecution.